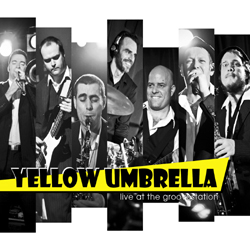 4250137261485
Live At The Groovestation
CD

Not only since the fi rst class album "A Thousand Faces" (2010) the seven musicians are well known for

their skillfully Ska/ Reggae mix. This release is a live recording from their show on 06/03/2011 and contains

songs of the releases "Stoned Steady", "Little Planet","A Thousand Faces" and "Marie Juana", including the

popular cover song classics (THE BEATLES / "I Will", THE FUGEES / "My Love Is Your Love". The band moves

easily and swinging through a 16 songs strong set and knowns how to convince with these new and old songs.

Accompanied by the cheers of the audience , YELLOW UMBRELLA deliver a perfectly staged live album.